About us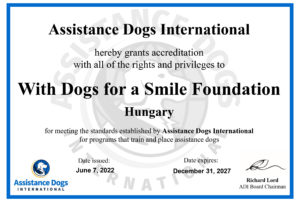 7 June 2022 Our foundation became an accredited member of Assistant Dog International
The Dogs with a Smile Foundation was founded in 2011 with the aim of improving people's quality of life by training assistance dogs that can provide them with the help they need.
The Foundation's responsible managers and trainers meet regularly to exchange ideas and explore opportunities for the increasingly high standard of uniform training of assistance dogs to specific standards, and to set guidelines and ethical rules for services with them, in accordance with the provisions of the Regulation No. 2016/9-27/2009 (XII.3.) SZMM.
Overview, vision, mission and governance
The Foundation supports a collaborative team that strives to cultivate the highest standards in the training and employment of assistance dogs.
We work as a team to create new opportunities for the people they support through the use of highly trained assistance dogs.
We are a non-profit, member-driven and transparent organization.  We take responsibility for meeting and exceeding the expectations of our members.
We work together in relationships based on mutual trust, where everyone is committed to creating a better future for the people who partner with Assistance Dogs.
We are committed to innovation and continuous learning to achieve the highest levels of service, quality and ethical practice.
We conduct our activities with the health and welfare of dogs in mind.  Ensuring the physical and emotional safety of assistance dogs is important to us.  We are committed to training methods, care and handling that are based on partnership, appreciation and respect.
We treat all individuals with dignity regardless of race, gender, religion, culture or ability.  We seek opportunities to promote social sensitivity and to enhance diversity and inclusion.
We work in 10 counties in Hungary, and we also have volunteers in Serbia and Romania.
The promotion of the Foundation's objectives at regional level and the provision of programmes and services at a consistent level in each region is ensured by the activities of the Regional Lead Trainers, appointed by the Board of Trustees.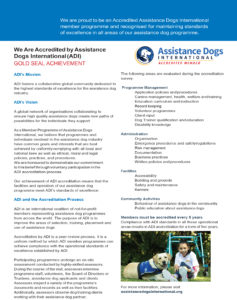 Réka Nagy-Juharos


 

Ágota Juharos MD


president of foundation

secretary of foundation